Pina Colada Cupcakes
Who knew there was a whole day dedicated JUST for cupcakes? Sure you can go to the Caribbean and enjoy a Pina Colada but why wait 10 hours? Whip these babies up and you'll have both in less than 1.5 hours.
Cooking time

20 minutes

Prep time

1 hour 0 minutes

Servings

12 portions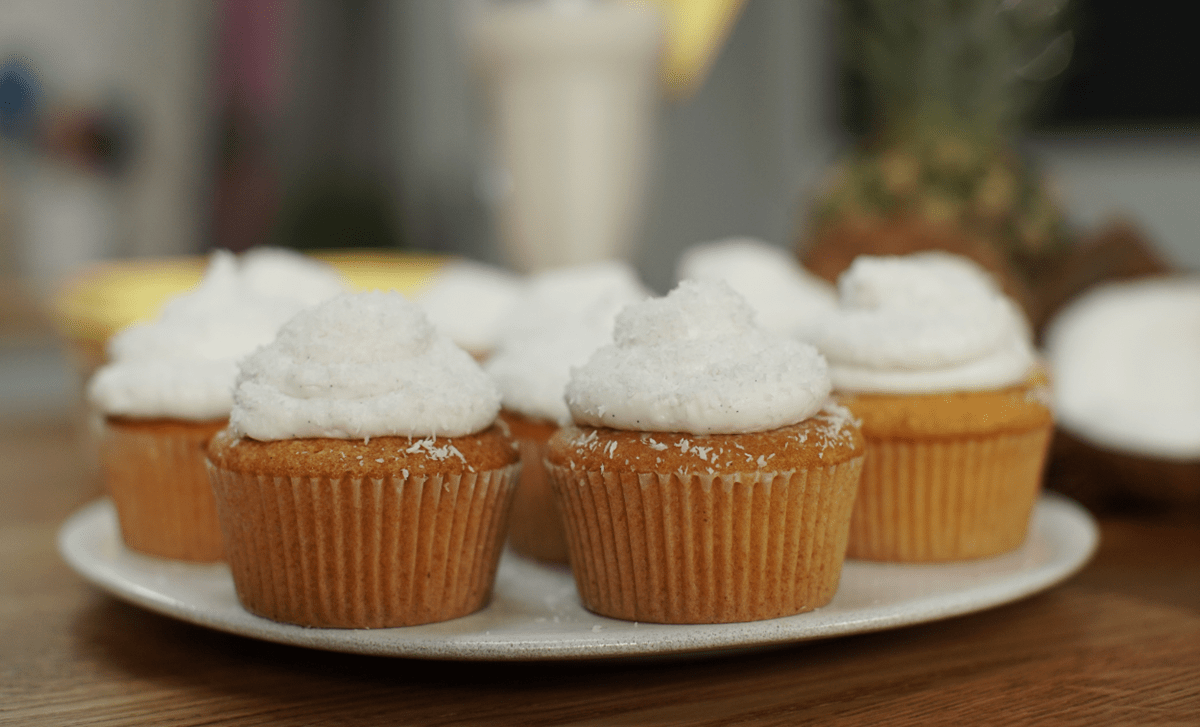 Ingredients
200g Stork Original (at room temperature)
200g golden caster sugar
4 medium eggs
1 teaspoon vanilla bean paste
2 tablespoons dark rum
200g self-raising flour
1 tin pineapple chunks
75g pectin/jam sugar
300ml double cream
150g mascarpone
3 tablespoons coconut rum
1 teaspoon vanilla bean paste
25g caster sugar
50g creamed coconut
25g sweetened desiccated coconut
| | |
| --- | --- |
| Energy (kcal) | 0 kcal |
| Energy (kJ) | 0 kJ |
| Protein (g) | 0.0 g |
| Carbohydrate incl. fibre (g) | 0.0 g |
| Carbohydrate excl. fibre (g) | 0.0 g |
| Sugar (g) | 0.0 g |
| Fibre (g) | 0.0 g |
| Fat (g) | 0.0 g |
| Saturated fat (g) | 0.0 g |
| Unsaturated fat (g) | 0.0 g |
| Monounsaturated fat (g) | 0.0 g |
| Polyunsaturated fat (g) | 0.0 g |
| Trans fat (g) | 0.0 g |
| Cholesterol (mg) | 0 mg |
| Sodium (mg) | 0 mg |
| Salt (g) | 0.00 g |
| Vitamin A (IU) | 0 IU |
| Vitamin C (mg) | 0.0 mg |
| Calcium (mg) | 0 mg |
| Iron (mg) | 0.00 mg |
| Potassium (mg) | 0 mg |
Instructions
Set the oven to 180C/Gas Mark 4
Into a stand mixer bowl, add in the Stork Original alongside the caster sugar. Mix well for approx. 5 mins on a high speed until light, fluffy and pale in colour. One by one, crack in each egg making sure to mix well in between each addition
When fully mixed, add in the vanilla bean paste and sieve in 1/3 of the self-raising flour. Mix well again. Remove bowl from the stand mixer and sieve half the remaining flour. Fold in using a spatula, ensuring you donâ™t knock out all the air. Fold in the remaining flour alongside the dark rum.
Use an ice-cream scoop to divide the mixture between 12 cupcake cases. Place into the oven and bake for 20 to 25 minutes until the sponge has risen, golden brown and firm on top.
Whilst they are cooking, letâ™s get the pineapple into a saucepan. Blitz using a hand blender for a few seconds to break down and add in the jam sugar. Cook over a medium heat for approx. 15 mins until it thickens. Remove the cooked cupcakes from the oven and transfer to a cooling rack.
Into a stand mixer bowl, add in the double cream, mascarpone, rum, vanilla paste and
caster sugar. Grate the creamed coconut into the bowl. Whisk for a few mins and taste cream. Adjust flavouring to taste (i.e. add more rum or coconut if needs be). Continue to whip until cream is just about holding firm peaks. Leave to chill.
Use the base of a piping nozzle to cut out the middle of each cupcake and leave to one side. When the cupcakes are cooled, spoon in the pineapple jam. Put the cut outs back into the cupcakes.
Transfer the whipped cream into a piping bag. Cut off the bottom and pipe a generous amount of frosting on top of each cupcake. Sprinkle with the desiccated coconut to finish.