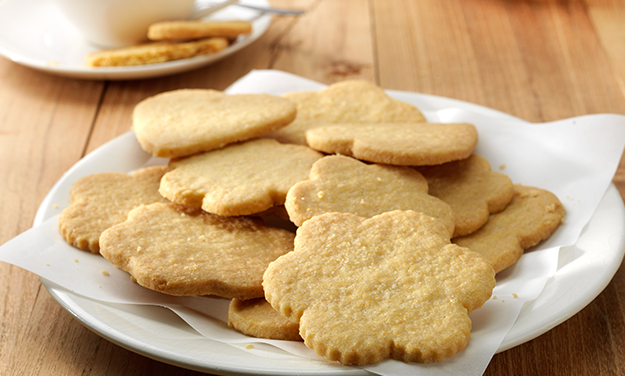 Simple Cookies
Simple Cookies
Prep time

30 minutes

Cooking time

15 minutes

Servings

28

Difficulty

Easy
Ingredients
Cookies ingredients
200g Stork packet
250g plain flour + extra for dusting
1 level teaspoon baking powder
100g caster sugar
2 large egg yolks
Topping ingredients
Icing sugar
Baking tin and cooking equipment: 2 baking sheets lined with baking paper, clingfilm, rolling pin, cookie cutters
Instructions
Steps
Preheat oven to 190°C, 170°C fan oven, Gas mark 5.
Cut the Stork into small pieces.
Sieve the flour and baking powder into a large bowl.
Add the sugar, egg yolks and Stork and mix with a wooden spoon, hand mixer or cold hands quickly into a stiff dough (don't mix for too long!). Wrap the dough in clingfilm and leave to rest and chill for 30 minutes in the fridge.
Dust the work surface with a little flour and roll out the dough until it is about 5mm thick.
Cut out shapes with a sharp knife or cookie cutters and place on the baking sheet lined with baking paper. Fold the dough scraps together, roll them out and cut out more shapes.
Bake in the preheated oven for 15-20 minutes until cooked and lightly browned. Leave the cookies to cool on the baking sheet.
Dust the cookies with icing sugar.