Brooklyn Blackout Cake
If you are going to eat cake for breakfast, for lunch, as a snack and for dinner – can I recommend you give this one a go? Ridiculously moreish, incredibly indulgent and stupidly delicious.
Cooking time

30 minutes

Prep time

1 hour

Servings

12 portions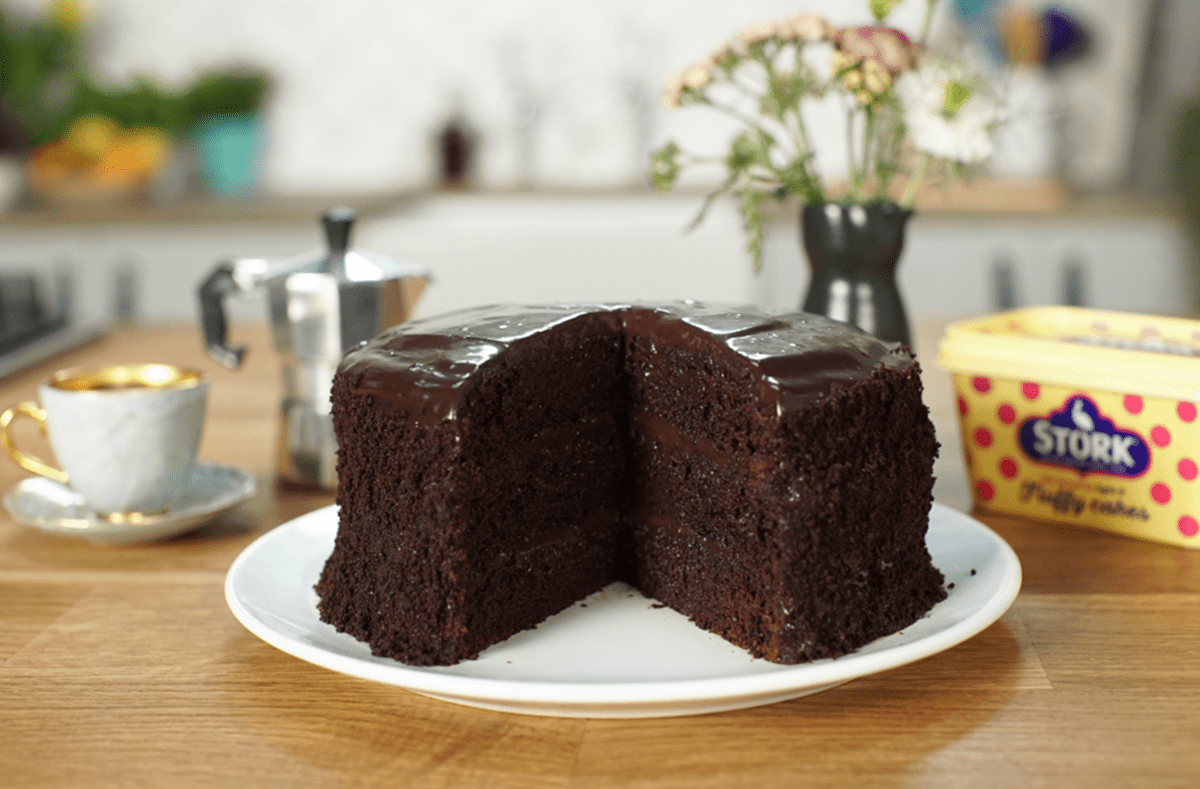 Ingredients
125 grams Stork
284ml buttermilk
2 medium free range eggs
150ml hazelnut milk
1 teaspoon vanilla bean paste
240g sifted plain flour
85g cocoa powder
2 teaspoon bicarbonate of soda
325g light muscovado sugar
Zest of 2 oranges
350ml full fat milk
300g golden caster sugar
50g cocoa powder
1 teaspoon vanilla bean paste
1 tablespoon golden syrup
50g cornflour
50 grams Stork
50g milk chocolate callets
| | |
| --- | --- |
| Energy (kcal) | 0 kcal |
| Energy (kJ) | 0 kJ |
| Protein (g) | 0.0 g |
| Carbohydrate incl. fibre (g) | 0.0 g |
| Carbohydrate excl. fibre (g) | 0.0 g |
| Sugar (g) | 0.0 g |
| Fibre (g) | 0.0 g |
| Fat (g) | 0.0 g |
| Saturated fat (g) | 0.0 g |
| Unsaturated fat (g) | 0.0 g |
| Monounsaturated fat (g) | 0.0 g |
| Polyunsaturated fat (g) | 0.0 g |
| Trans fat (g) | 0.0 g |
| Cholesterol (mg) | 0 mg |
| Sodium (mg) | 0 mg |
| Salt (g) | 0.00 g |
| Vitamin A (IU) | 0 IU |
| Vitamin C (mg) | 0.0 mg |
| Calcium (mg) | 0 mg |
| Iron (mg) | 0.00 mg |
| Potassium (mg) | 0 mg |
Instructions
First up, let's get the oven set to 160C Fan to preheat. Grease 3 (8-inch) cake tins with the Stork and greaseproof paper.
In a saucepan, gently melt the Stork. Pour in the buttermilk alongside the 2 eggs, hazelnut milk and vanilla bean paste and beat well with a balloon whisk.
Into a large bowl, sift in the plain flour, cocoa powder and bicarbonate of soda. Add in the muscovado sugar and grate in the orange zest. Use a balloon whisk to mix all the dry ingredients together so they are thoroughly mixed.
Next, add the buttermilk and egg mixture to the dry ingredients and use a whisk to mix until the cake batter is deliciously smooth and silky. Use a spatula to evenly pour into the 3 tins (and of course, lick the bowl clean of any remaining batter). Pop it straight into the oven and bake for approx. 25 mins. Check whether they are baked by popping in a wooden skewer to see whether it comes out clean. Leave in the tins for a few minutes, use a serrated knife to even the tops before turning out and cooling completely. Leave the cut offs in one bowl, we will need them later!
Whilst the cakes are cooking and cooling, lets get on with the chocolate custard. Over a medium heat, place a saucepan on top. Add in the milk, golden caster sugar, cocoa powder, vanilla bean paste and golden syrup and stir continuously until near boil.
Into a separate bowl, combine the cornflour with about 70ml of water and mix until smooth. Pour the smooth cornflour into the saucepan, add in the milk chocolate callets and mix continuously until the custard thickens. Once thickened, add in the Stork and mix until melted, smooth and glossy.
We need this custard to chill immediately so pour into a shallow tray and spread. Pop some clingfilm on top to prevent a skin from forming and place in the fridge to rapidly cool
Let's construct! Place one sponge on to a plate. Use a spatula to spoon some of the custard on top and level out. Place the next sponge on top and repeat until all 3 are used. Use a palette knife to coat the entire cake with the custard generously. And place in the fridge to firm up for over an hour.
Place the chocolate sponge cut offs into a food processor to blitz to a crumb. And pat on top and on the sides of the cooled cake to finish!