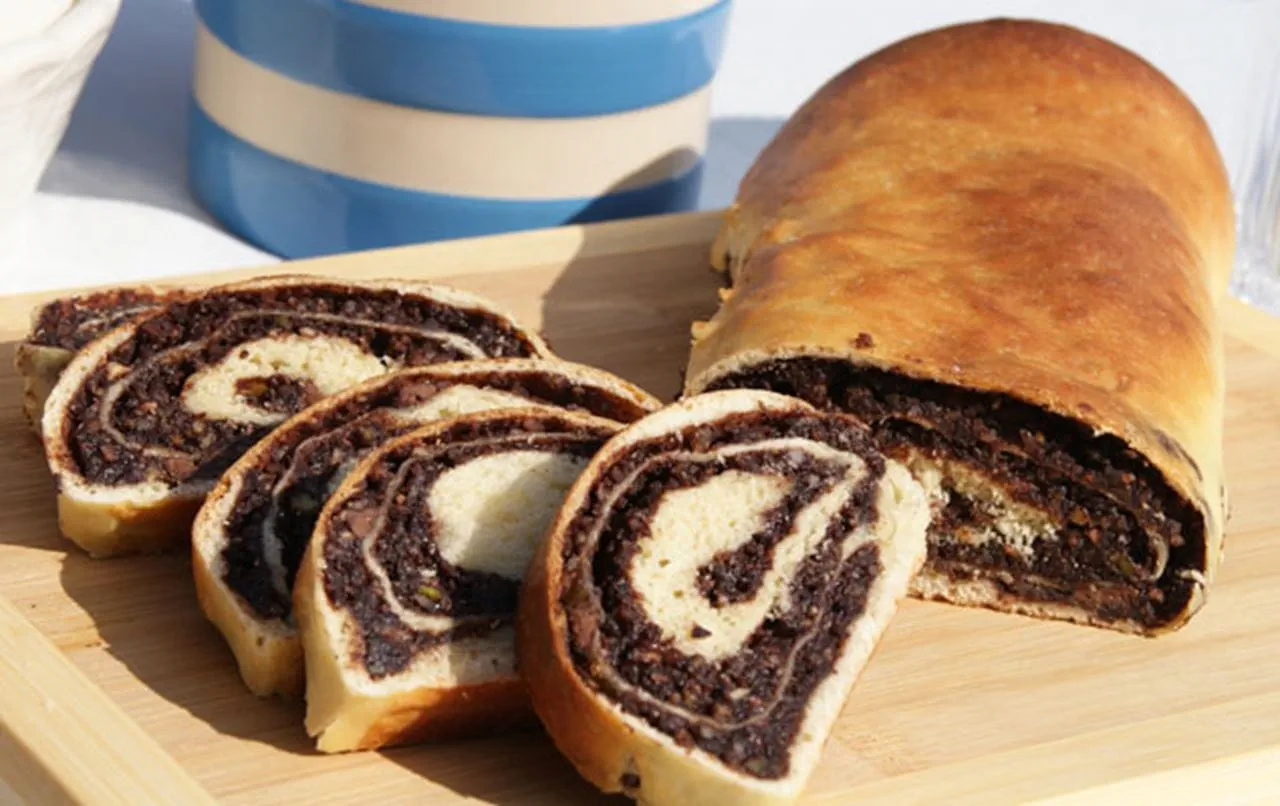 Chocolate Nut Roll
Chocolate Nut Roll
Prep time

1 hour

Cooking time

35 minutes

Servings

20

Difficulty

Easy
Ingredients
Filling
525g plain flour
1 ½ tsp salt
65g caster sugar
2 tsp fast action yeast
240ml soured cream
2 eggs, large
40g Stork tub, melted and cooled
115g Stork tub
120ml evaporated milk
200g caster sugar
85g cocoa powder
450g mixed ground nuts (150g walnuts, 100g pecans, 100g hazelnuts, 100g almonds)
100g dark chocolate chips
A little milk to glaze
Instructions
Steps
Prepare the filling. Grind the nuts to a fine powder in a food processor. Gently warm the Stork, evaporated milk and caster sugar in a small pan until melted and combined. Stir in the ground nuts and cocoa powder. Heat gently, stirring well until the mixture thickens. Remove from the heat and transfer to a bowl to cool to room temperature.
To make the dough combine the flour, sugar, yeast, salt, soured cream, eggs and melted stork. Mix to a rough dough. Knead the very soft dough in the bowl for 10 minutes, pinching the dough with your fingertips, lifting and pressing back down. Transfer to a lightly greased bowl, cover and allow to rise for 1 hour.
Lightly grease the worksurface and split the dough in half. Roll out each portion to a rectangle approx. 25cm x 40cm. Spread with half of the cooled filling and scatter with half of the choc chips. Fold over the two short edges just a little to encase the filling and roll the dough from the long edge tightly to make a long roll. Pinch together the dough at the seam.
Transfer to a well greased or lined baking tray, cover loosely and allow to rise for 3 hours. Brush well with milk and bake (160c (fan)/180c/Gas Mark 4) in the oven for 35 minutes until golden.
Cool on a wire rack and serve.