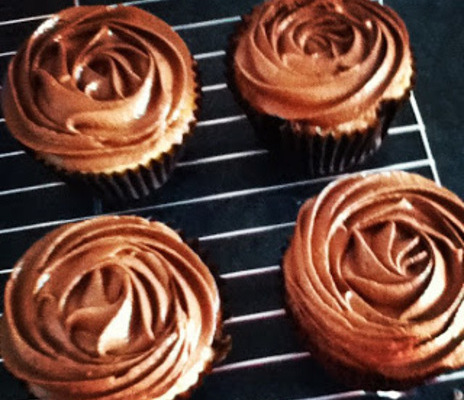 Chocolate Orange Cupcakes
Chocolate Orange Cupcakes
Prep time

30 minutes

Cooking time

25 minutes

Servings

16

Difficulty

Medium
Ingredients
Cupcakes
175g Stork with Butter
175g caster sugar
3 eggs
200g self-raising flour
1 teaspoon baking powder
Zest of one orange
4 tablespoons milk
16 tablespoons chocolate orange spread
Icing
100g dark chocolate
200g milk chocolate
100ml double cream
100g Stork with Butter
Half teaspoon vanilla extract
250g chocolate orange spread
Instructions
how_make
This recipe makes approx 16 cupcakes so line two muffin tins with 16 paper cases.
Preheat your oven to 180°C / Gas mark 4.
Beat the Stork and sugar together in a bowl until light and fluffy.
Add the eggs one at a time and beat well after each addition.
Now add the dry ingredients, sieve the flour and baking powder into the bowl and mix well.
Stir in the milk and orange zest.
Fill each of your muffin cases to around two thirds full.
Warm up your chocolate spread so it is runny and add a teaspoon to each muffin case.
Then with a cocktail stick gently stir the mix creating a marbled effect.
Put in the oven on the middle shelf for 25mins or until golden brown.
When you remove the cupcakes from the oven, leave them for around 5 minutes before you put them on a wire rack to cool completely.
For the icing, melt the chocolate (either in the microwave or on the hob).
Once the chocolate has melted completely add to a mixing bowl and add the cream, Stork and vanilla essence and beat well with an electric whisk.
Once fully combined add the chocolate orange spread.
Once the cupcakes have cooled completely add the icing using a piping bag or spatula.
Enjoy!