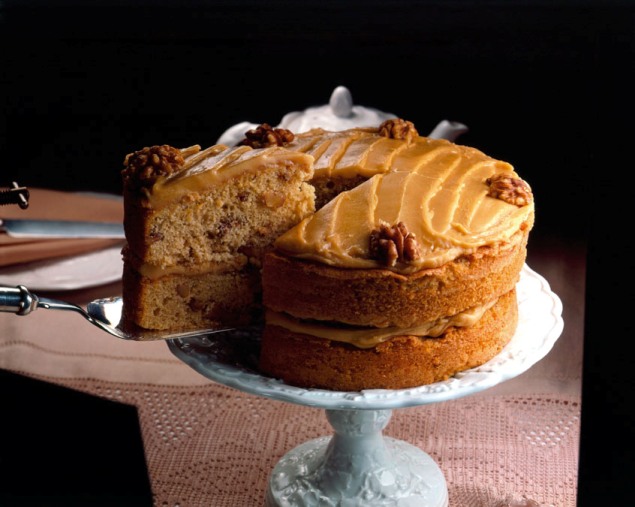 Coffee Walnut Cake
Coffee Walnut Cake
Prep time

45 minutes

Cooking time

25 minutes

Servings

12

Difficulty

Medium
Ingredients
Cake
175 grams Stork
175 grams caster sugar
3 eggs, medium, beaten
175g (6oz) self-raising flour, sieved
55g (2oz) walnuts, chopped
1 tablespoon coffee essence
Icing
85 grams Stork
225g (8-oz) icing sugar, sieved
1 tablespoon milk
1 tablespoon coffee essence
Decoration
Instructions
how_make
Place all cake ingredients in a mixing bowl and beat together until smooth.
Place in 2 x 18cm (7 inch) greased and bottom-lined sandwich tins.
Fold in the flour.
Stir in the walnuts and the coffee.
Grease two 18cm (7 inch) sandwich tins and line the bottoms.
Spoon half of the mixture into each tin.
Bake in middle of preheated oven at 180 ° C, 160 °C fan, gas mark 4 for 25â30 minutes. Turn out and cool on wire tray.
Turn the cakes out onto a wire rack and leave to cool.
Icing: Mix all ingredients until well blended.
Add the milk and coffee essence and beat together.
Sandwich the 2 cakes together with a little of the icing.
Spread most of the remainder on the sides and top of the cake.
Chop all but eight of the walnuts and press around the sides of the cake.
Pipe remaining icing around the edge using a star nozzle and decorate with reserved walnuts.