Summer Berry Tarts
Summer calls for berries. And berries call for tarts. And tarts call for Stork. Ain't life grand?
Cooking time

20 minutes

Prep time

1 hour 0 minutes

Servings

12 portions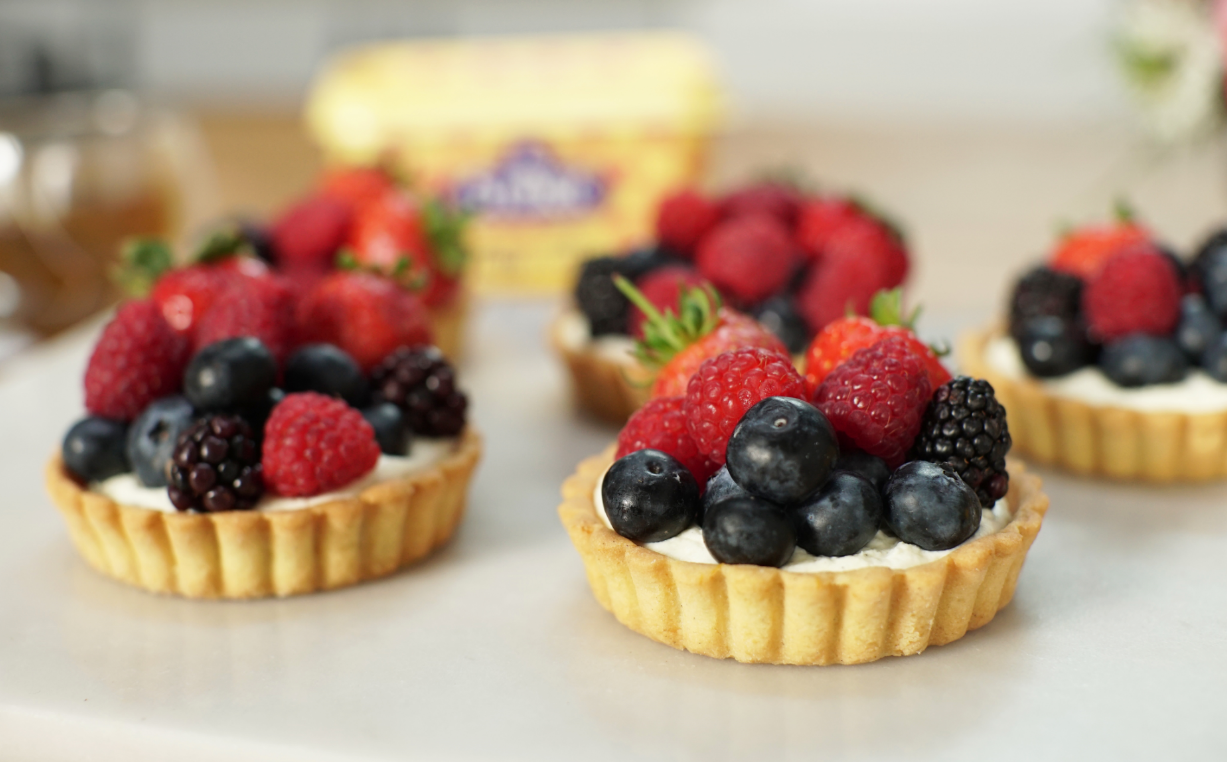 Ingredients
Ingredients
115g Stork Original (Use Stork Block for Vegan tarts), plus more for greasing
1/2 teaspoon vanilla bean paste
40g icing sugar
Zest of 1 lemon
110g sifted plain flour
Coconut Filling
225g cream cheese (Or vegan cream cheese for vegan tarts)
45g icing sugar
30g creamed coconut (grated)
1 teaspoon vanilla bean paste or pod
1 full fat coconut milk (tinned and refrigerated overnight)
To Finish
320g mixed fresh summer berries
Nutritional facts
| | |
| --- | --- |
| Energy (kcal) | 0 kcal |
| Energy (kJ) | 0 kJ |
| Protein (g) | 0.0 g |
| Carbohydrate incl. fibre (g) | 0.0 g |
| Carbohydrate excl. fibre (g) | 0.0 g |
| Sugar (g) | 0.0 g |
| Fibre (g) | 0.0 g |
| Fat (g) | 0.0 g |
| Saturated fat (g) | 0.0 g |
| Unsaturated fat (g) | 0.0 g |
| Monounsaturated fat (g) | 0.0 g |
| Polyunsaturated fat (g) | 0.0 g |
| Trans fat (g) | 0.0 g |
| Cholesterol (mg) | 0 mg |
| Sodium (mg) | 0 mg |
| Salt (g) | 0.00 g |
| Vitamin A (IU) | 0 IU |
| Vitamin C (mg) | 0.0 mg |
| Calcium (mg) | 0 mg |
| Iron (mg) | 0.00 mg |
| Potassium (mg) | 0 mg |
Instructions
how_make
Set the oven to 160 degrees C to preheat.
Grease your baking tins using Stork and leave to one side.
In a stand mixer bowl with the paddle attachment, cream the Stork and vanilla bean paste until super light and fluffy â this will take approx. 5 mins.
Next, add in the icing sugar and mix until fully combined. Grate in the lemon zest, sift in the plain flour and mix until just combined making sure you do not over mix as this will make the pastry tough.
Lightly flour a worktop surface and roll out the pastry to a few mm thick. Cut out circles of pastry to line the tins and press in gently. Repeat with all remaining pastry dough.
Try not to re-roll the pastry too many times as you will lose the shortness in the pastry and it will become tough. Use a fork to lightly prick the base of the dough and pop it into the fridge to chill for at least 15 minutes.
In the meantime, letâ™s get the coconut cream filling made. Into a bowl, add in the cream cheese, icing sugar, grated creamed coconut and vanilla bean paste. Scoop out the solid cream from the refrigerated coconut tin and add into the bowl. Mix with either an electric hand whisk or stand mixer to blend well until smooth. Taste and adjust sweetness according to taste. Pop it into the fridge until later.
Take the pastry cases out of the fridge and bake for approx. 15 mins until the pastry is golden on the edges. Allow them to cool slightly in the cases for approx. 5 mins before removing and placing on a cooling rack to cool.
As soon as the shells are cool, transfer the coconut cream to a piping bag. Pipe the filling into the shells evenly. Top with the mixed fresh berries and enjoy! This one is best eaten on the day they are made to enjoy the buttery pastry at its best.