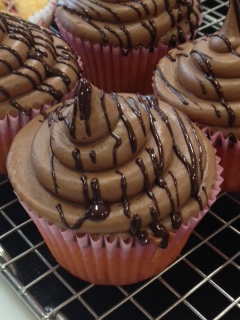 Chocolate, Banana and Tia Maria Cupcakes
Chocolate, Banana and Tia Maria Cupcakes
Prep time

30 minutes

Cooking time

20 minutes

Servings

12

Difficulty

Easy
Ingredients
Cupcakes
115g (4 oz) Stork with Butter
115g (4 oz) caster sugar
2 eggs, medium
140g (5 oz) self-raising flour, sieved together with ½ teaspoon baking powder
25g (1 oz) cocoa powder, blended with 1 tbsp hot water
½ banana, mashed
85g (3 oz) white chocolate
Icing
55g (2 oz) Stork with Butter
200g (7 oz) icing sugar, sieved
25g (1 oz) cocoa powder
1 tablespoon Tia Maria
Instructions
how_make
Place all cake ingredients except for 25g (1 oz) white chocolate in a mixing bowl and beat with a wooden spoon until well mixed 1-2 minutes. Spoon mixture in 12 paper cases placed in a muffin tray.
Bake in a preheated moderately hot oven 180ºC, 160ºC fan oven, Gas mark 4 on second shelf from top for 15 - 20 minutes until soft and springy to the touch.
For the icing, place all ingredients together in a mixing bowl and beat together until smooth. Spread or pipe over the cakes and decorate with grated white chocolate.