Chocolate Rudolph Cake
Christmas is coming! Our cute and tasty Chocolate Rudolph Cake recipe is ideal for sharing with friends and family.
Cooking time

1 hour 0 minutes

Prep time

30 minutes

Servings

12 portions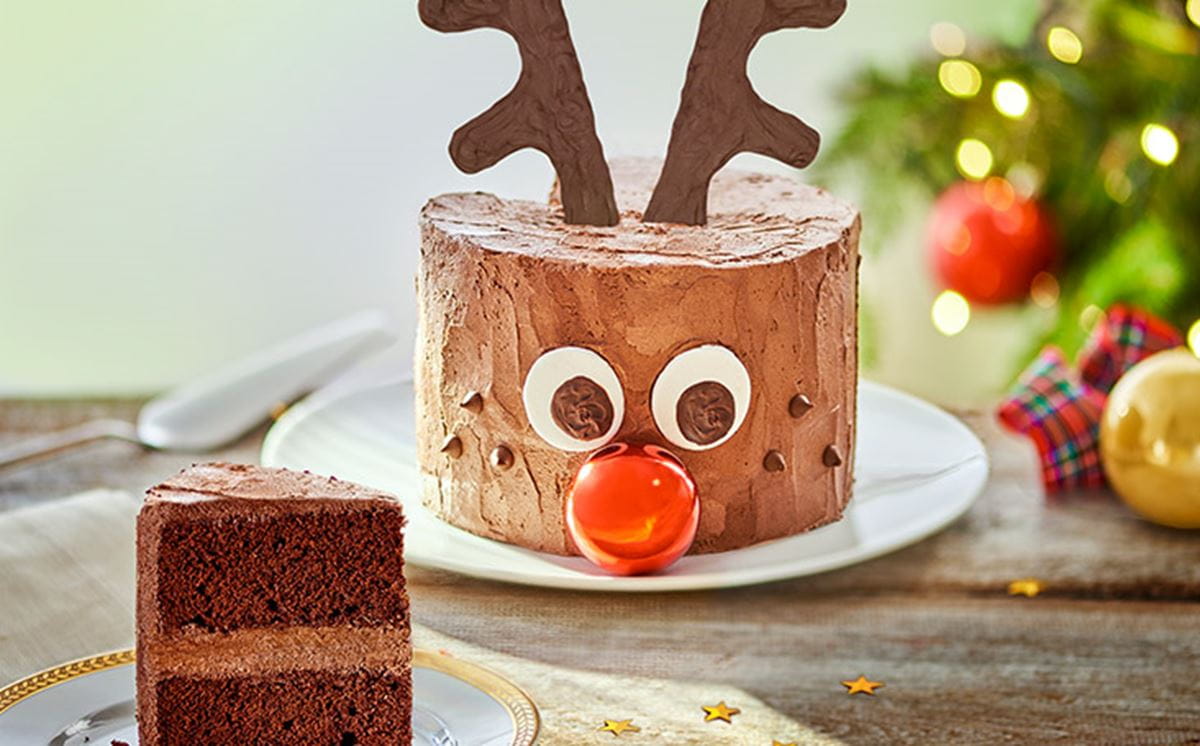 Ingredients
225g Stork with butter
225g caster sugar
4 medium eggs
40g cocoa powder dissolved in
4-5 tablespoons hot water
225g self-raising flour, sieved
175g Stork with butter
325g icing sugar
25g cocoa powder
1 dessertspoon (10ml) milk
150g dark chocolate chips
1 x red bauble
White ready to roll icing
| | |
| --- | --- |
| Energy (kcal) | 0 kcal |
| Energy (kJ) | 0 kJ |
| Protein (g) | 0.0 g |
| Carbohydrate incl. fibre (g) | 0.0 g |
| Carbohydrate excl. fibre (g) | 0.0 g |
| Sugar (g) | 0.0 g |
| Fibre (g) | 0.0 g |
| Fat (g) | 0.0 g |
| Saturated fat (g) | 0.0 g |
| Unsaturated fat (g) | 0.0 g |
| Monounsaturated fat (g) | 0.0 g |
| Polyunsaturated fat (g) | 0.0 g |
| Trans fat (g) | 0.0 g |
| Cholesterol (mg) | 0 mg |
| Sodium (mg) | 0 mg |
| Salt (g) | 0.00 g |
| Vitamin A (IU) | 0 IU |
| Vitamin C (mg) | 0.0 mg |
| Calcium (mg) | 0 mg |
| Iron (mg) | 0.00 mg |
| Potassium (mg) | 0 mg |
Instructions
Place Stork with butter and sugar in a mixing bowl and beat together until light and fluffy. Beat in eggs, one at a time and then beat in the cocoa mix.
Fold in the flour and place in two deep, greased and bottom-lined 18cm (7 inch) cake tins. Smooth tops.
Bake in oven 180°C, 160°C fan, Gas mark 4 middle shelf, for 45-55 minutes. Transfer from the tins to a wire rack to cool completely.
Roll out a little white ready to roll icing and cut out 2 circles for the eyes, set to one side.
Reserve 8 chocolate chips for the face decoration and gently melt the remaining. Use a little of the melted chocolate to create pupils in the centres of the eyes and allow to set.
Lay a sheet of baking paper over the antler template. Spread the remaining melted chocolate thickly with a palette knife to form the antlers and place in the fridge to set.
To make the frosting beat together the Stork with butter, milk, icing sugar and cocoa powder until evenly combined.
To assemble trim the domed tops from the cakes if necessary and sandwich together with a layer of chocolate frosting. Coat the sides and top with the remaining frosting using a palette knife.
Place the red bauble in position for the reindeers nose, and press the eyes lightly onto the frosting. Add the reserved chocolate chips to the sides of the reindeers face.
Lastly take the antlers from the fridge, use a sharp knife to cut 2 slots into the top of the cake and gently set the antlers into position in the slots on the top of the cake.
Serve.
https://www.youtube.com/watch?v=UEsM1j9abMg