Gluten Free Millionaires Shortbread
These Gluten Free Millionaires Shortbreads from Georgina @TheCoeliacSloth both look and taste divine- they are sure to go down a treat whether following a gluten-free diet or not!
Cooking time

20 minutes

Prep time

30 minutes

Servings

10 portions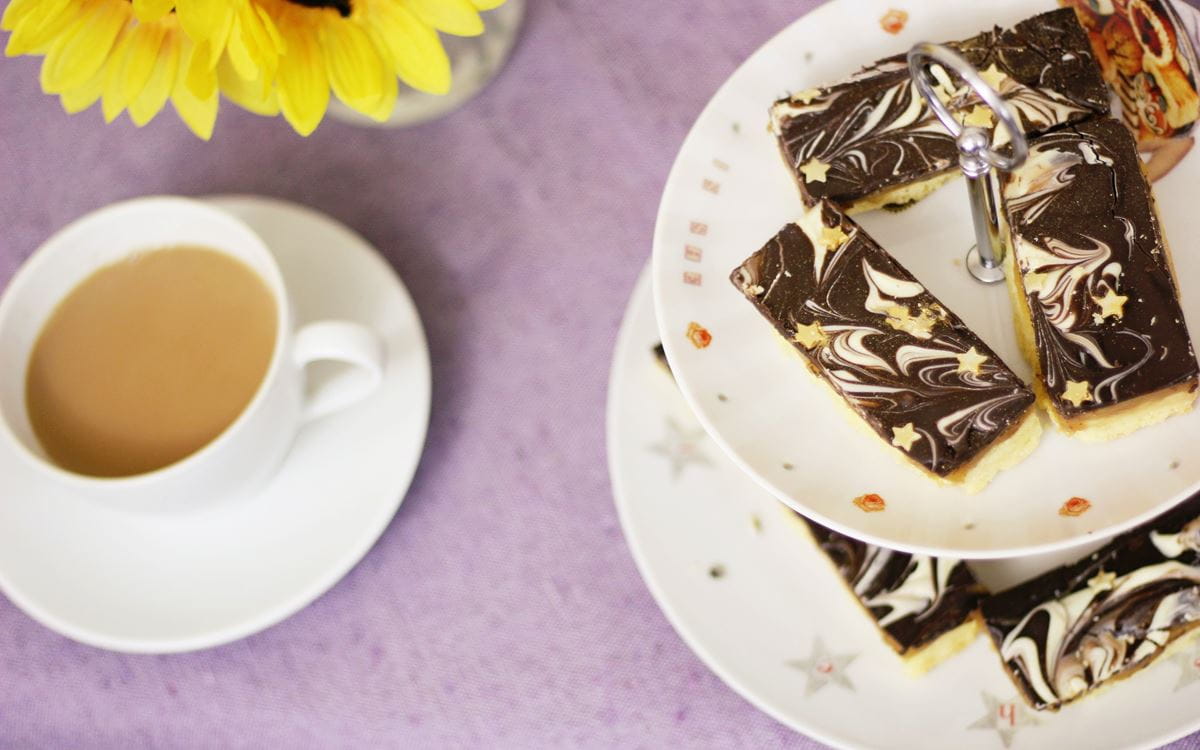 Ingredients
150g Stork  Block- cut into chunks
75g Caster Sugar
250g Gluten free Plain flour
200g Condensed Milk
2tbsp Golden Syrup
125g Caster Sugar
125g Stork Original Tub
200g Dark cooking chocolate
50g White chocolate chips
White chocolate stars
Gold edible lustre spray
| | |
| --- | --- |
| Energy (kcal) | 0 kcal |
| Energy (kJ) | 0 kJ |
| Protein (g) | 0.0 g |
| Carbohydrate incl. fibre (g) | 0.0 g |
| Carbohydrate excl. fibre (g) | 0.0 g |
| Sugar (g) | 0.0 g |
| Fibre (g) | 0.0 g |
| Fat (g) | 0.0 g |
| Saturated fat (g) | 0.0 g |
| Unsaturated fat (g) | 0.0 g |
| Monounsaturated fat (g) | 0.0 g |
| Polyunsaturated fat (g) | 0.0 g |
| Trans fat (g) | 0.0 g |
| Cholesterol (mg) | 0 mg |
| Sodium (mg) | 0 mg |
| Salt (g) | 0.00 g |
| Vitamin A (IU) | 0 IU |
| Vitamin C (mg) | 0.0 mg |
| Calcium (mg) | 0 mg |
| Iron (mg) | 0.00 mg |
| Potassium (mg) | 0 mg |
Instructions
Combine the sugar and flour together in a mixing bowl.
Rub the Stork baking block into the dry ingredients by hand, until it resembles breadcrumbs.
Pour the mixture into a 25" lined baking tin and pad down with the back of a spatula until it's tightly packed into it. Prick all over the top with a fork to allow it to bake flat.
Bake the shortbread for 20 minutes at 160°c Fan/ 180°c /Gas Mark 4 then leave to cool in the baking tin for 20 minutes.
In a saucepan, add in all of the caramel ingredients and mix until thoroughly combined.
Put the saucepan over a low-medium heat and stir the mixture constantly until it turns a golden brown colour, and has thickened.
Set this aside to cool slightly, and then pour it evenly over the shortbread layer. Leave this to cool completely, this can take up to 2 hours.
Spray your chocolate stars with the gold edible lustre spray. Make sure you do this on a covered work surface.
In a bain-marie, (a bowl sat over a saucepan of boiling water) Melt 200g of the dark chocolate. In another one, melt the white chocolate.
Pour the melted dark chocolate evenly over the caramel layer.
Just before the dark chocolate starts to set, take a spoon, and drop blobs of the melted white chocolate onto the dark chocolate. With a cocktail stick, swirl the white chocolate until it creates a marble effect. There are no rules to this bit.
Sprinkle over the gold stars, and spray some of the lustre on top of the chocolate layer.
Allow to cool completely, cut evenly into squares, serve and enjoy!