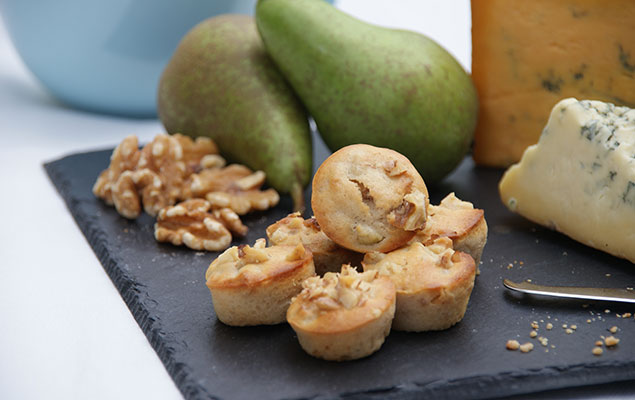 Pear and Walnut Mini Muffins
Pear and Walnut Mini Muffins
Prep time

30 minutes

Cooking time

15 minutes

Servings

20

Difficulty

Easy
Ingredients
Ingredients
130g self raising flour
50g caster sugar
70g walnuts, chopped
1 large pear, peeled cored and diced
100ml milk
1 egg, medium
30g Stork, melted
1 tbsp honey
Instructions
how_make
Preheat the oven and grease the recesses of a mini muffin tin well.
Place the flour and caster sugar in a large bowl and mix to combine.
Reserve 3 tbsps of the chopped walnuts and set to one side. Add the remaining walnuts and the diced pear to the dry ingredients and mix well to coat all the additions evenly.
In a jug whisk together the milk, egg, melted Stork and honey.
Make a well in the centre of the dry ingredients and pour in the mixture from the jug.
Stir well with a wooden spoon until evenly combined.
Spoon the mixture into the greased mini muffin tin, filling each recess approx. 2/3rds full.
Scatter the reserved chopped walnuts over the tops of the muffins and bake in the oven for 12-15 minutes until risen and golden.
Allow to cool on a wire rack and serve.