Stork Butterfly Cake
Discover our delicious Butterfly Cake recipe, a beautifully decorated vanilla sponge cake that the kids will love.
Cooking time

1 hour 10 minutes

Prep time

45 minutes

Servings

10 portions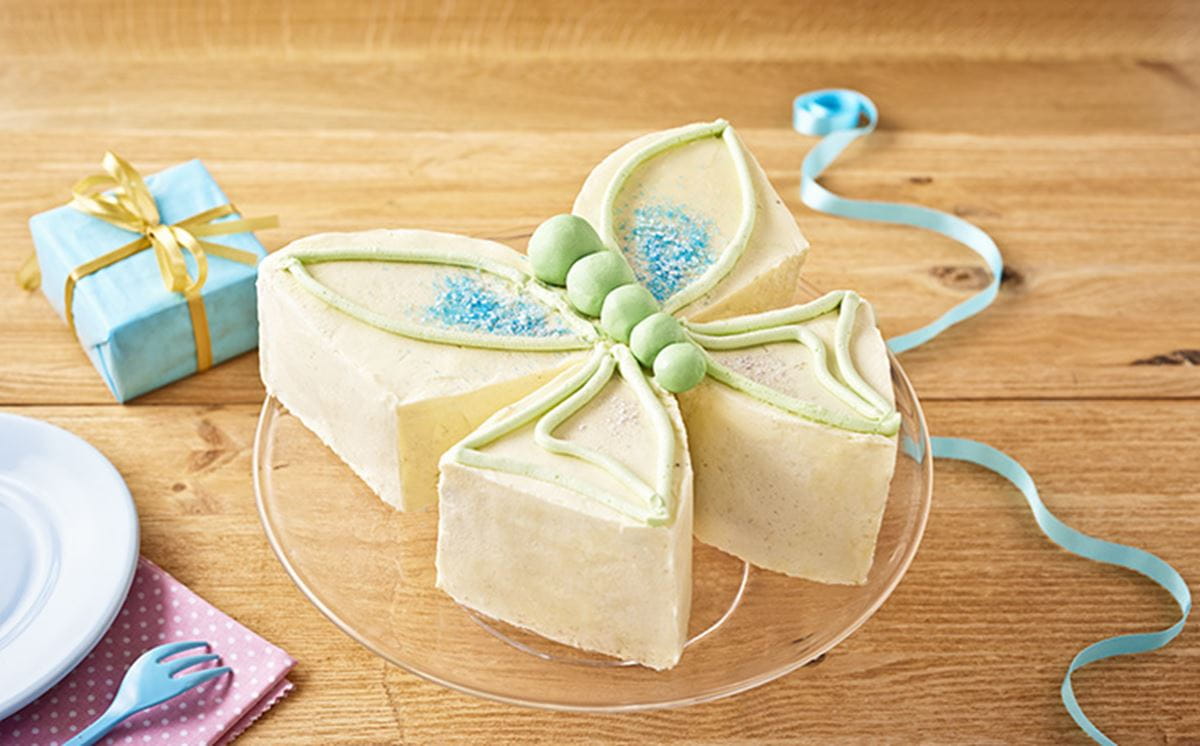 Ingredients
250 gr of Stork with butter
250 gr of caster sugar
4 large eggs
250 gr of self raising flower
1 teaspoon of vanilla extract
150g Stork with Butter
300g icing sugar, sifted
Food colourings
Green sugarpaste
Dried spaghetti
Coloured sprinkles (optional)
A large cake board or serving plate.
| | |
| --- | --- |
| Energy (kcal) | 0 kcal |
| Energy (kJ) | 0 kJ |
| Protein (g) | 0.0 g |
| Carbohydrate incl. fibre (g) | 0.0 g |
| Carbohydrate excl. fibre (g) | 0.0 g |
| Sugar (g) | 0.0 g |
| Fibre (g) | 0.0 g |
| Fat (g) | 0.0 g |
| Saturated fat (g) | 0.0 g |
| Unsaturated fat (g) | 0.0 g |
| Monounsaturated fat (g) | 0.0 g |
| Polyunsaturated fat (g) | 0.0 g |
| Trans fat (g) | 0.0 g |
| Cholesterol (mg) | 0 mg |
| Sodium (mg) | 0 mg |
| Salt (g) | 0.00 g |
| Vitamin A (IU) | 0 IU |
| Vitamin C (mg) | 0.0 mg |
| Calcium (mg) | 0 mg |
| Iron (mg) | 0.00 mg |
| Potassium (mg) | 0 mg |
Instructions
Place Stork and sugar in a mixing bowl and cream together until light and fluffy. (approx 1 ½ min with electric hand mixer).
Add a teaspoon of vanilla and the eggs one at a time, beating well after each addition. Sift in the self-raising flour and fold in until the mixture is well blended.
Place the dough in a 20m (8 inch) greased and lined round cake tin. Bake on middle shelf of oven 180°C, 160°C fan, Gas 4 for about 70 minutes.
Make up the icing beating together the Stork with the icing sugar until the mixture has a soft spreadable consistency. Set to one side.
Using the cutting guide (see template) cut the sponge cake into the four sections A B C D as indicated on the template.
Coat the top and sides of each piece of cake with the icing using a palette knife.
Position the pieces as indicated on the template on the cake board and serving plate. Take portions of the left over icing and colour in complimentary colours for the butterfly decoration. Place the coloured icing in disposable piping bags, snip a little from the end of the bags and pipe the decoration onto the wings of the butterfly. Decorate with sprinkles if desired.
To create the butterflies body snap a piece of dried spaghetti slightly shorter than you would like the body. Roll small balls of green sugarpaste slightly tapering in size and slide the spaghetti through the middle of each to create the body of the butterfly. Roll a slightly larger ball for the head and add to the spaghetti last.
Place the body into position down the middle of the butterfly. Serve.
https://www.youtube.com/watch?v=uwqiEnCqmqE