Soldier Cake
Discover how to make a soldier birthday cake. Filled with chocolate: cake, biscuits, rolls and curls. Delicious!
Cooking time

50 minutes

Prep time

30 minutes

Servings

12 portions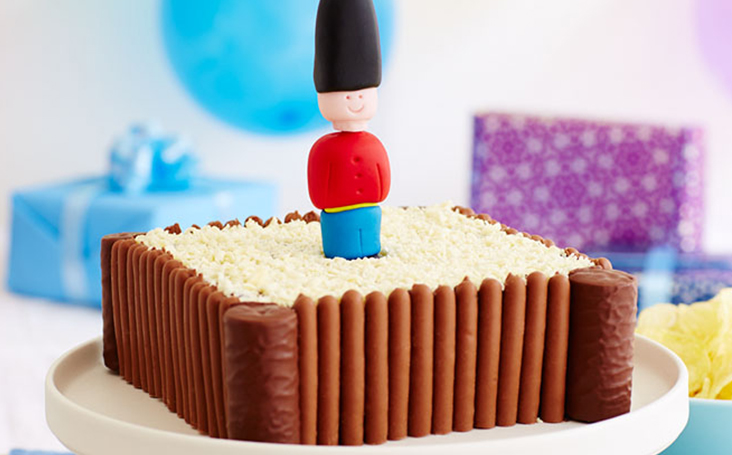 Ingredients
Chocolate Cake
250 grams Stork
250g caster sugar
4 eggs, large
1 tsp vanilla extract
200g self-raising flour
50g cocoa powder
1 tsp baking powder
Frosting
150 grams Stork
300g icing sugar
35g cocoa powder
Decorations
300g chocolate finger biscuits
4 mini rolls
50g white chocolate curls
Dry spaghetti stick,
Ready to roll icing in black, red, blue, white and yellow.
Blue ribbon
Nutritional facts
| | |
| --- | --- |
| Energy (kcal) | 0 kcal |
| Energy (kJ) | 0 kJ |
| Protein (g) | 0.0 g |
| Carbohydrate incl. fibre (g) | 0.0 g |
| Carbohydrate excl. fibre (g) | 0.0 g |
| Sugar (g) | 0.0 g |
| Fibre (g) | 0.0 g |
| Fat (g) | 0.0 g |
| Saturated fat (g) | 0.0 g |
| Unsaturated fat (g) | 0.0 g |
| Monounsaturated fat (g) | 0.0 g |
| Polyunsaturated fat (g) | 0.0 g |
| Trans fat (g) | 0.0 g |
| Cholesterol (mg) | 0 mg |
| Sodium (mg) | 0 mg |
| Salt (g) | 0.00 g |
| Vitamin A (IU) | 0 IU |
| Vitamin C (mg) | 0.0 mg |
| Calcium (mg) | 0 mg |
| Iron (mg) | 0.00 mg |
| Potassium (mg) | 0 mg |
Instructions
This is how it's made
Preheat the oven to 160c (fan)/180c/Gas Mark 4.
Grease a 7inch square cake tin well and line the base with a piece of non-stick baking paper.
Place all the chocolate cake ingredients in a large bowl and beat together until the cake mixture is even and well combined.
Transfer the mixture to the tin and bake in the oven for 50 minutes until springy to the touch and a skewer when inserted into the centre comes away clean.
Place the cake onto a wire rack and allow to cool fully.
Beat together the frosting ingredients until well mixed and light and fluffy.
Place the cooled cake onto a serving plate and cover with the chocolate frosting.
To decorate place a chocolate roll at each corner and fill the sides with chocolate finger biscuits, cutting them down to size if necessary. Scatter the top of the cake with the white chocolate curls.
To make the soldier. Knead a little of the ready to roll icing in each colour to soften. Mix a little of the red and white to make a pink colour for the soldiers face. Shape the pieces as follows: Feet - Starting with the feet roll a small ball of black and flatten slightly. Legs - Make a thick sausage of blue icing and mark with a knife down the centre for the legs. Body - Create the body from a ball of red icing, marking on the arms with a knife. And imprint buttons using the tip of a skewer.
Belt - a ball of yellow flattened into a disc. Neck & Face -Roll a ball for the head from the pink icing and a small ball flattened into a disc for the neck, mark on two eyes with the point of a skewer and a smile using a straw. Hat - A thick sausage of black for the hat. Spear each piece starting with the feet onto a stick of dry spaghetti, a little dab of water between the pieces will glue them together. Leave the end of the spaghetti stick halfway inside the soldiers hat. Set the soldier into the centre of the cake.
Trim the base of the cake with ribbon and serve.
Tips
The dry spaghetti supports the upright Soldier and will stop it from falling over
If the ready to roll icing is a little sticky to work with lightly dust your hands with a little icing sugar.