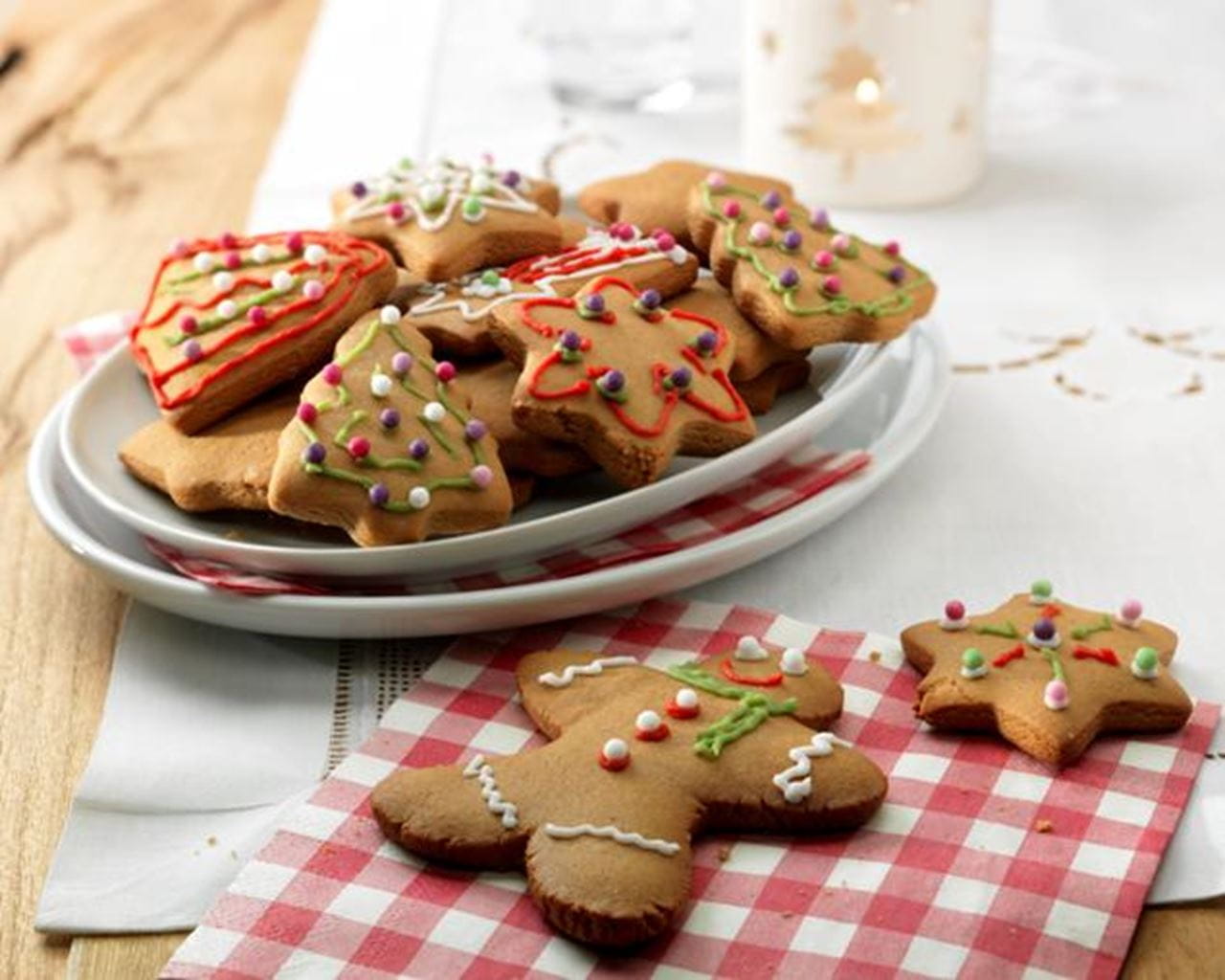 Christmas Ginger Biscuits
Christmas Ginger Biscuits
Prep time

45 minutes

Cooking time

10 minutes

Servings

40

Difficulty

Medium
Ingredients
Biscuit ingredients
1 orange
100g Stork Tub
250g brown sugar
250 ml golden syrup
2 medium eggs
2 tablespoons mixed spice
1 level tablespoon ground ginger
600g plain flour + extra for dusting
150g self-raising flour
1 teaspoon baking powder
Topping ingredients
Writing pens with edible icing in various colours
sweets to decorate
Baking tin and extra cookware: 2 baking sheets lined with baking paper, cling film, rolling pin, fairly large (approx. 10 cm), Christmas tree-shaped and Santa-shaped cookie cutters
Instructions
Steps
Preheat the oven to 180°C,160°C fan oven, Gas mark 4.
Finely grate the orange over a saucepan.
Add the Stork, brown sugar and syrup to the orange zest and cook, stirring over medium heat until the sugar has melted. Let the mixture cool for 10 minutes.
Lightly beat the eggs and stir into the Stork mixture.
Sieve the mixed spices, ginger, the flours and baking powder over the egg-Stork mix and stir everything together until it forms a soft dough.
Knead the dough for a few minutes by hand until it firms up and is less sticky. Shape the dough into a compact ball, flatten it a little and wrap in cling film. Leave the dough to rest for at least 2 hours (the longer the better).
Dust the work surface with flour and roll the dough with a rolling pin until it is about ½ cm thick.
Cut out Christmas tree, stars, hearts and Santa Claus shapes from the dough and place on the baking sheets lined with baking paper. Fold the dough scraps together, roll them out again, and cut out more shapes. (If they don't all fit on the sheets, bake the rest once first biscuits are ready.) Bake in the preheated oven for 10-15 minutes until golden brown. Leave the cookies to cool for 5 minutes on the baking sheet and then place them on a wire rack.
Decorate the biscuits using the icing pens and sweets and let them dry.