Lemon and passion fruit drizzle cake
This isn't your average lemon drizzle, in fact we shouldn't even really call it that. It is a glorious lemon cake, brushed liberally with passion fruit syrup and adorned with a brown sugar passion fruit glaze, definitely not your grandmother's lemon drizzle.
Cooking time

40 minutes

Prep time

45 minutes

Servings

15 portions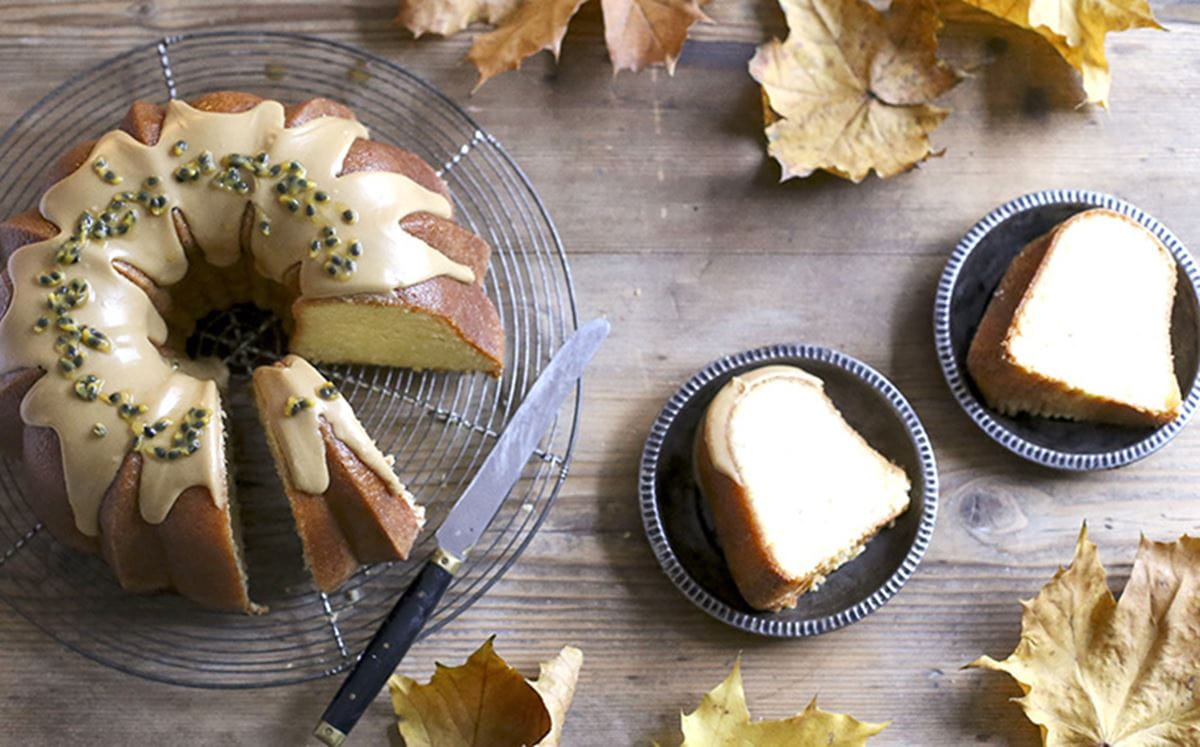 Ingredients
230 grams Stork
500g caster sugar
zest of 4 Lemons
8 large eggs
450g self raising flour
250g soured cream
2 tsp lemon oil
50g caster sugar
50ml passion fruit juice (about 2 passion fruit)
50 grams Stork
100g light brown sugar
Juice of 2 passion fruit
100-150g icing sugar
Nutritional facts
| | |
| --- | --- |
| Energy (kcal) | 0 kcal |
| Energy (kJ) | 0 kJ |
| Protein (g) | 0.0 g |
| Carbohydrate incl. fibre (g) | 0.0 g |
| Carbohydrate excl. fibre (g) | 0.0 g |
| Sugar (g) | 0.0 g |
| Fibre (g) | 0.0 g |
| Fat (g) | 0.0 g |
| Saturated fat (g) | 0.0 g |
| Unsaturated fat (g) | 0.0 g |
| Monounsaturated fat (g) | 0.0 g |
| Polyunsaturated fat (g) | 0.0 g |
| Trans fat (g) | 0.0 g |
| Cholesterol (mg) | 0 mg |
| Sodium (mg) | 0 mg |
| Salt (g) | 0.00 g |
| Vitamin A (IU) | 0 IU |
| Vitamin C (mg) | 0.0 mg |
| Calcium (mg) | 0 mg |
| Iron (mg) | 0.00 mg |
| Potassium (mg) | 0 mg |
Instructions
To make the cake lightly grease a bundt tin and dust with a little flour, tapping out any excess.
Place the Stork and the sugar into a large bowl and using an electric mixer beat together until light and fluffy, 2-3 minutes.
Add the eggs one at a time and beat together until smooth and uniform. Once all of the eggs have been added, mix in the flour in three additions, alternating with the sour cream.
Pour the batter into the prepared bundt pan and bake in an oven, preheated to 180C (160C Fan), for about 50-60 minutes or until a skewer inserted into the cake comes out clean. Allow the bundt to cool in the pan for about 10 minutes before turning out onto a wire rack to cool completely.
Whilst the cake is still in the tin make the syrup by placing the sugar and the passion fruit juice into a small saucepan and bringing to the boil. Once the cake has been inverted onto the wire rack brush liberally with the syrup.
Once fully cooled transfer the cake to a serving plate. To make the glaze place the Stork and the sugar into a small saucepan and over medium heat, melt and bring to a simmer. Remove from the heat and mix in the juice of two passion fruits. Beat in the icing sugar to make a thick but pourable glaze (depending on how much juice you get you may need more or less icing sugar). Pour the glaze over the cake letting it drip down the sides. Decorate with the passion fruit seeds. If kept in a sealed container the cake will keep for up to 3 days.