Strawberry Butterfly Cake
Share a slice of Strawberry Butterfly Cake, with a hint of hazelnut and topped with lemon or basil cream cheese, it's deliciously fun!
Cooking time

20 minutes

Prep time

45 minutes

Servings

20 portions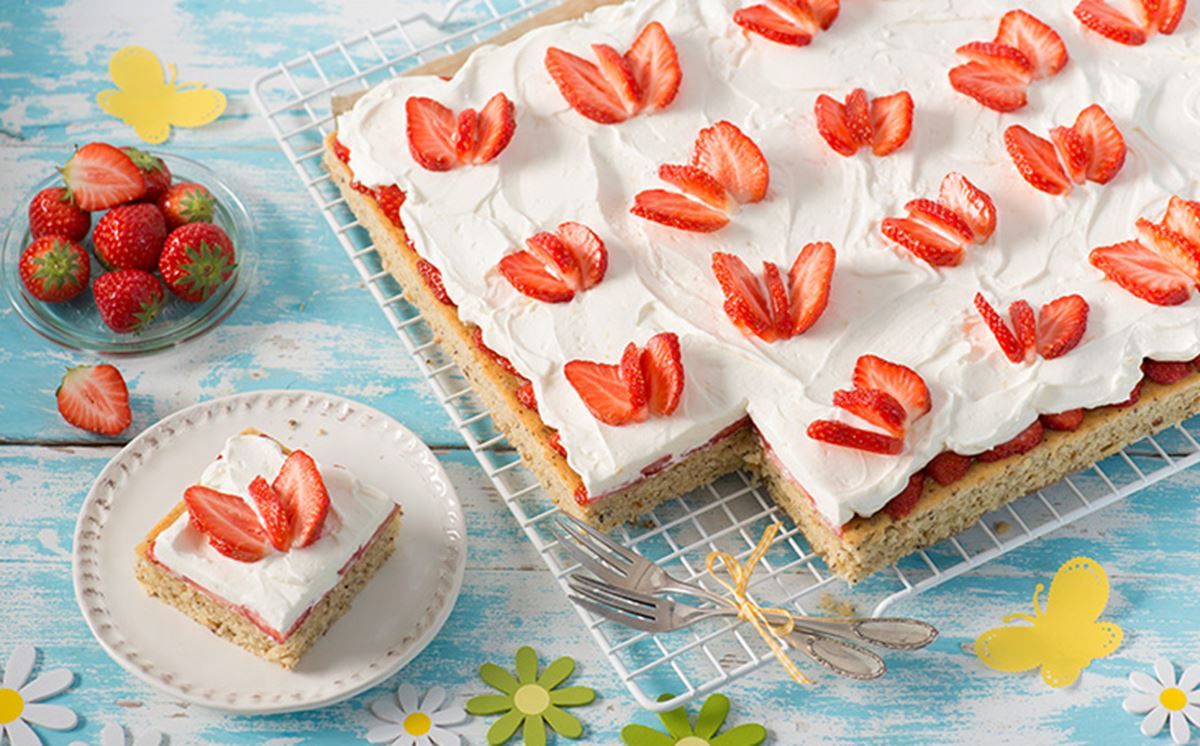 Ingredients
300 g Stork
300 g sugar
3 eggs
350 g flour
125 g ground hazelnuts
1 sachet of baking powder
1 pinch of salt
250 ml milk
40 g chopped hazelnuts
1 lemon
200 g cream cheese (full fat)
60 g icing sugar
250 ml Elmlea double (Whipped)
500 g strawberries
*Optional to make a green cream:
30g basil leaves
| | |
| --- | --- |
| Energy (kcal) | 0 kcal |
| Energy (kJ) | 0 kJ |
| Protein (g) | 0.0 g |
| Carbohydrate incl. fibre (g) | 0.0 g |
| Carbohydrate excl. fibre (g) | 0.0 g |
| Sugar (g) | 0.0 g |
| Fibre (g) | 0.0 g |
| Fat (g) | 0.0 g |
| Saturated fat (g) | 0.0 g |
| Unsaturated fat (g) | 0.0 g |
| Monounsaturated fat (g) | 0.0 g |
| Polyunsaturated fat (g) | 0.0 g |
| Trans fat (g) | 0.0 g |
| Cholesterol (mg) | 0 mg |
| Sodium (mg) | 0 mg |
| Salt (g) | 0.00 g |
| Vitamin A (IU) | 0 IU |
| Vitamin C (mg) | 0.0 mg |
| Calcium (mg) | 0 mg |
| Iron (mg) | 0.00 mg |
| Potassium (mg) | 0 mg |
Instructions
Preheat oven to 180 °C (160 °C fan oven). Line baking tray with baking paper. Beat Stork and the sugar with a mixer until smooth. Stir in the eggs carefully one after another.
Mix the flour, the ground hazelnuts, the baking powder and a pinch of salt. Combined with the milk, stir it in the batter briefly, but carefully. Mix in the chopped hazelnuts. Spoon the mixture into the baking tray (greased with margarine and lined with baking paper) and level the surface. Bake in the preheated oven for approximately 20 minutes. To test for doneness, insert a toothpick into the centre of the cake. If it comes out clean, it is done. Allow cake to cool completely.
In the meantime, zest the lemon with a grater with fine holes. Stir the grated lemon zest with the cream cheese and the icing sugar. Whip the whipping cream with a mixer until stiff. With an eggbeater, fold it step by step into the cream cheese mixture. Let the cream chill until you need it again. *Optional for green cream: Divide the cream in two halves. Halve the whipping cream. Purée the basil leaves with one half of it. Whip both portions with a mixer until stiff. With an eggbeater, fold both portions step by step into one of the cream cheese mixes. Let the creams chill until you need them again.
Stem the strawberries. Take approximately one third of the berries and slice them. Cut the cooled cake base in two halves and spread a thin layer of cream on each one of them. Plate with the strawberry slices. Spread the rest of the cream wave-shaped on the cake. Decorate with butterfly-shaped strawberries. Your strawberry butterfly cake is ready! Tip: If you cut the cake in pieces before decorating it with strawberries the butterflies will be divided fairly – one on every piece.